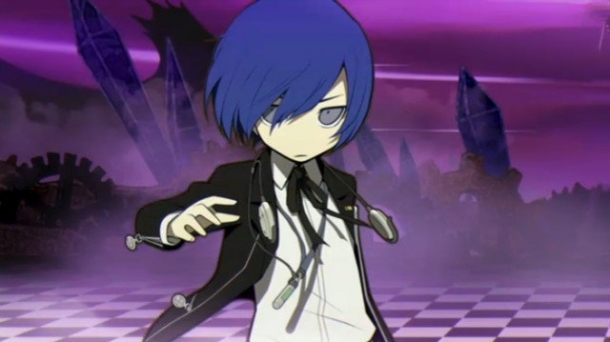 A new trailer for Persona Q: Shadow of the Labyrinth has been released on the official Atlus YouTube page. Curiously, it's marked as "unlisted". Is it some sort of leak or just an uploading slip-up? Regardless, it looks great!

This adorable trailer shows off the Persona 3 and 4 heroes battling Shadows through a labyrinth of some kind. Unusually, all of the P3 characters still seem to be in their school uniforms, which may imply that this is going to be a fun little non-canon title rather than a sort of canonical side-story.

Persona staples like summoning demonic alter-egos, All-Out-Attacks, and over-the-top enemy designs feature prominently. A release date for Japan - 5th June 2014 - is revealed at the very end.

Related Brainwaves
29th June

Back in 2012, Atlus teamed up with Aksys to create Persona 4 Arena, a new fighting game that pits the cast of the hit RPG Shin Megami Tensei: Persona 4...

19th January

Back in 2008, when the PS2 was being smothered with an HD pillow by the PS3, the next generation of consoles was finally starting to gain headway. The...
Trending Articles
2nd February

World Series Of Poker Hack can generate unlimited Chips and Cash. http://tricksgamesonline.com/2017/02/02/world-series-poker-hack-chips-generator/ http://tricksgamesonline.com/2017/02/02/world-series-poker-hack-chips-generator/ About...

29th September

Hey gamers we've a new online tool for you, this time is Farming Simulator 2017 Cd-key Generator. Render your own village: from growing to animal husbandry,...

6th March

3D mobile MMORPG War of Rings is available now on Google Play and Apple App Store. In War of Rings, players have to fight with Human, Elf and Dwarf to...

21st September

Gamers have found a new player vs player playlist and a new planet buried in Destiny's source code. The playlist is called Tales of Osiris and will take...

17th February

Dragon Ball Z: Extreme Butoden has apparently been announced in the latest edition of V Jump magazine in Japan. It is a 2D fighter and will be released...