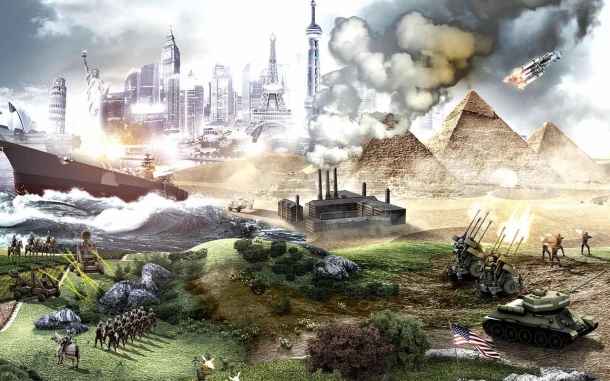 If you are a somewhat avid PC gamer then the name Sid Meier should ring a bell,. For those who aren't, Meier's considered one of the most important people in the industry. He is best known for the creation of the Civilization franchise, along with Sid Meier's Pirates. He is also the current Director of Development at Fireaxis (which he co-founded), which is also known for its critically acclaimed reboot for XCOM.

Now Sid Meier's games are center stage on Humble Bundle, with the launch of The Humble Sid Meier Bundle. This bundle, unlike the regular indie bundles, is not DRM free and will only include a Steam key when purchased. Those who pay over the minimum $1 will get Sid Meier's Railroads! (Windows), Sid Meier's Ace Patrol (Windows), Sid Meier's Ace Patrol: Pacific Skies (Windows), Sid Meier's Civilization III Complete (Windows) and Sid Meier's Civilization IV: The Complete Edition (Windows and Mac).

Those who beat the average (currently $7.33) will also receive Sid Meier's Civilization V + Gods and Kings DLC (Windows + Mac). Finally, those who pay over $15 will get (in addition to everything listed so far) Sid Meier's Civilization V: Brave New Worlds DLC (Windows + Mac). This bundle will last another 2 weeks.

Along with this The Humble Bundle Store is holding a mid-week Paradox Sale that will last another two and a half days.

Trending Articles
23rd September

Ubisoft revealed today Assassin's Creed Chronicles: China, an entirely new downloadable Assassin's Creed game, featuring 2.5 side-scrolling gameplay and...

17 hours ago

Dead or Alive 5: Last Round will be coming to PS3, PS4, Xbox 360 and Xbox One February 17th in America, and February 20th in Europe, Tecmo Koei have announced. This...

2 days ago

Hyrule Warriors, the Zelda-infused Dynasty Warriors-inspired hack 'n slash title developed by Team Ninja will be getting Amiibo support, Nintendo have...

2 days ago

The Walking Dead Seasons 1 and 2 have been delayed in Europe for the PS4 and Xbox One, Telltale Games have announced. The release date was originally...

1 day ago

The first of Mario Kart 8's two DLC packs is expected to land next month. We already knew that it would include the following: Three new characters...