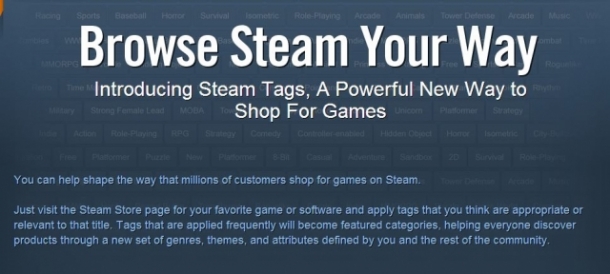 Valve has added a new tagging system to its mega-popular digital game service, Steam, called Steam Tags. This feature allows users to "tag anything, your way" by creating your own tags that you feel best represent the game. This will allow users to search the Steam store for games based on popular tags, tags that Steam recommends for you, or filter by specific tags of your choosing.

Valve's goal is to help users find out more about games that may not be readily apparent on the game's Steam page. The Steam Tags FAQ tells developers that "tags can be a good indicator of when there is a mismatch between how you perceive your game, and how your game is perceived by customers. Often this is simply because there is some piece of information regarding the game that customers feel is missing from the store page."

That said, the internet has been known to abuse power bestowed upon it or take the opportunity to make a joke. The tags "Bad" and "Garbage" have been applied to many games such as Fez and seemingly every Call of Duty title, while the tag "Praise the Sun!" (named after a quote from Dark Souls) has found its way on to other unrelated games. Time will tell whether Steam Tags will become as useful as Valve hopes.

Trending Articles
6th January

When it comes to video games with deep stories, huge open worlds, and complex battle systems, nothing comes close to the RPG. Few genres are more diverse...

4th February

Borderlands 2 has some of the most enjoyable writing of a game released this generation, thanks to lead writer Anthony Burch (Hey Ash, Whatcha Playin'?)....

9th March

Well the reviews are out and the new Tomb Raider seems to be the rare successful reboot. However poor Lara can't seem to catch a break. There is a game...

16th October

Pokemon X & Y released worldwide on Saturday to the joy of millions - 4 million of whom purchased the game within the first two days. However, some of...

30th October

Download Link: http://www.fileworld.info/outil-triche/telecharger-geometry-dash-outil-de-piratage-android-ios-comment-pirater-geometry-dash-triche/ Hello...