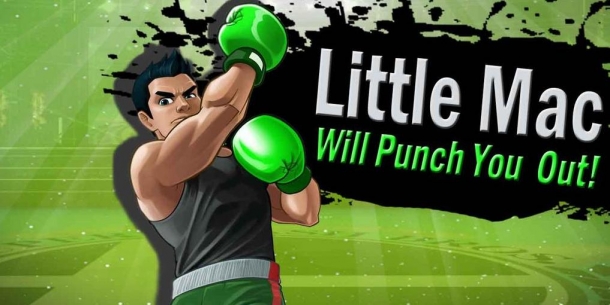 -Little Mac is joining the Super Smash Bros. for Wii U and 3DS cast. The pint-sized hero of the Punch-Out franchise attacks with a flurry of boxing blows. The trailer is below.
- New trailers were shown for Kirby Triple Deluxe, Professor Layton and the Azran Legacy and Yoshi's New Island. They can be found on Nintendo's Youtube Channel.
- A new Steel Diver FPS titled Steel Diver: Sub Wars was announced. There is a free version of the game with full access to the multiplayer, but only two available submarines.
- Bat and Switch was announced for the 3DS eShop. The title has you playing a number of baseball minigames, each of which is purchased individually. The catch is that you can negotiate down the cost of the minigames in-game.
- Pokemon Trozei, Nintendo's gem matching Pokemon battle puzzle game, is hitting the 3DS eShop.
- New Monster Hunter 4: Ultimate trailer plus online co-op confirmed for Western release.
- The final game in Guild 01 is hitting the 3DS eShop. Weapon Shop de Omasse has you working as a black smith for RPG heroes.
- Inazuma Eleven is officially coming to the west on the 3DS eShop. This is the first time a game in the popular soccer RPG franchise has been localized.
- Quick promotional blurbs were shown for a number of indie games, including Moon Chronicles, Shovel Knight, 1001 Spikes, and Retro City Rampage. More videos on them can be watched in Nintendo Minute features on their youtube channel.
- New trailer for Child of Light for Wii U, launching April 30th.
- New trailer for Donkey Kong Country: Tropical Freeze shows a wide range of levels and environments, embedded below.
- NES Remix 2 announced for Wii U, featuring remixes of later NES releases. It includes a completely reversed version of the original Super Mario Bros. called Super Luigi Bros.
- GameBoy Advance Games are officially hitting the Wii U eShop, starting with Metroid Fusion, Yoshi's Island 3, and Mario & Luigi: Superstar Saga in the coming months.
- A new Mario Kart 8 trailer showed off the Koopa Kids, who are joining the cast. The official release date is May 30th.
- X gameplay was shown for the first time, showing off an active turn-based combat system, in which position matters, and players can enter and exit mechs at will.
- Finally a new trailer for Bayonetta 2 was shown.

To read the full article (including the trailers) check out the link below.