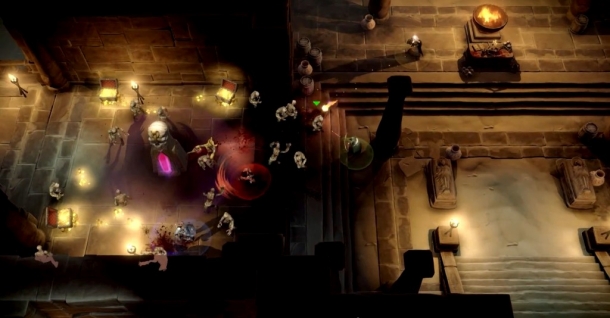 Warner Bros. Interactive Entertainment announced today that a remake of the classic dungeon crawler Gauntlet is currently being developed with a planned release of summer 2014. The announcement was accompanied by several promotional photos showcasing the game's logo as well as a trailer announcing the game.

David Haddad, Senior Vice President of Digital Games at Warner Bros. had this to say about the remake, "With Gauntlet we combined the arcade style of the original game with an entirely new look and feature set that includes emergent, local and online four-player gameplay."

Gauntlet is a modernized action RPG based on the decorated arcade game, and is the inaugural game of WB Games Vault, a program that offers direct-to-digital releases of games based on popular Warner Bros. and Midway titles, as well as original IPs.

The development of the remake is being helmed by Arrowhead Studios, a Swedish game developer best known for developing the 2011 action-adventure game Magicka, as well as Helldivers, the upcoming top-down shooter for PS4, PS3, and Vita.

Gauntlet will be released on PC via Steam, and will be fully compatible with Steam OS and Steam Machines when they are released in the second half of 2014.