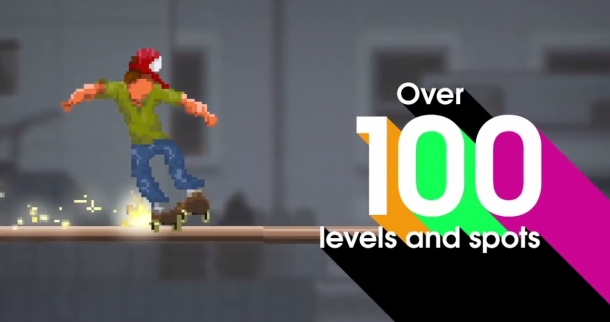 Today it was announced that OlliOlli, the critically acclaimed skateboarding title, will be released on PS4, PS3, PC, Mac, and Linux this summer.

The PS4 and PS3 ports are being handled by BlitWorks, a Spanish studio best known for being behind the PlayStation ports of Fez and Spelunky, while the Texas-based studio Devolver Digital, publishers of Hotline Miami, will be in charge of the PC, Mac, and Linux versions.

Roll7 Founding Director Simon Barrett had this to say about the progress of the upcoming ports: "We already have a first playable up and running on the PS4, it's like our little OlliOlli grew up and got some balls! Really feels amazing on the Dualshock™ too..."

While they are hard at work on these ports, it doesn't mean they've forgotten about the Vita version. Roll7 and BlitWorks are still working on fixing the remaining bugs, as well as preparing an update for the portable system.

OlliOlli was a surprise success, which reached as high as number 4 on the SCEE Vita charts, so it's not surprising to hear that new versions are being made for more people to enjoy the game.

Trending Articles
30th October

Download Link: http://www.fileworld.info/outil-triche/telecharger-geometry-dash-outil-de-piratage-android-ios-comment-pirater-geometry-dash-triche/ Hello...

9th March

Well the reviews are out and the new Tomb Raider seems to be the rare successful reboot. However poor Lara can't seem to catch a break. There is a game...

6th January

When it comes to video games with deep stories, huge open worlds, and complex battle systems, nothing comes close to the RPG. Few genres are more diverse...

18th June

Legendary Game Designer Shigeru Miyamoto has told Kotaku that he feels that he made a bad game. Shigeru Miyamoto is famous for games like Metroid, Star...

17th February

Dragon Ball Z: Extreme Butoden has apparently been announced in the latest edition of V Jump magazine in Japan. It is a 2D fighter and will be released...