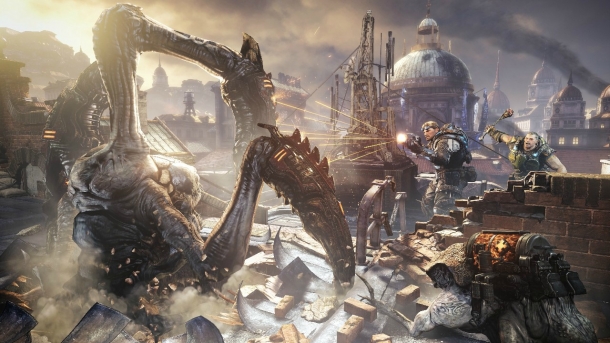 E-Day would be "interesting to explore" said Joshua Ortega, former writer on Gears of War 2, in a recent interview with X-One:

"E-Day would be a really interesting one to explore. It has a lot of emotional impact, it was the day that Dom and Maria lost their children, when humans had been fighting humans for so long. The war was finally over, and then they had to take up arms against a greater threat. I feel like that's the most compelling gap to fill for sure."

Ortega isn't writing for the Gears of War franchise anymore, but E-Day - which stands for Emergence Day - would make a lot of sense. It'd give the player a real sense of struggle as an almost endless horde of enemies bashes your army further and further back. Alternatively we could see Black Tusk aiming for a series set during the Pendulum Wars, which would give them the ability to create multiple sequels.

Trending Articles
21st September

Gamers have found a new player vs player playlist and a new planet buried in Destiny's source code. The playlist is called Tales of Osiris and will take...

16th February

Yu-Gi-Oh! Duel Generation Hack Tool Get Free Unlock All Pack and Deck, tool works on Android and iOS (iPhone, iPad, iPod Touch), download tool Hack Tool...

5th November

Fallout: Shadow of Boston and Fallout: The Ultimate Collection trademarks have been filed at the German patent office. The Office for Harmonization in...

18th June

Legendary Game Designer Shigeru Miyamoto has told Kotaku that he feels that he made a bad game. Shigeru Miyamoto is famous for games like Metroid, Star...

2nd February

World Series Of Poker Hack can generate unlimited Chips and Cash. http://tricksgamesonline.com/2017/02/02/world-series-poker-hack-chips-generator/ http://tricksgamesonline.com/2017/02/02/world-series-poker-hack-chips-generator/ About...