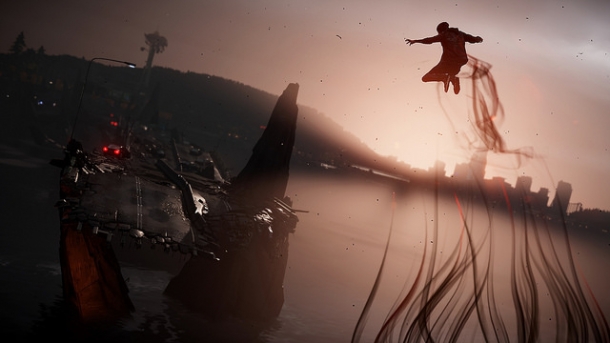 Sucker Punch has announced that Infamous: Second Son will be getting its first full update in two weeks' time, and that several new features will be added.

The patch is said to have been designed in direct response to fan complaints and feedback, and the team is apparently planning to continue rolling out new additions to the game as more feedback is received.

The first new addition is the ability to change the time of day once you've beaten the game. That feature will be available in the option menu. You'll also be able to switch the HUD on and off from the menu to enable you to get the perfect screenshot.

Finally, Sucker Punch has acknowledged that while the game was designed to be played with an unlocked frame rate, some people would rather it was locked. That option will be included to prevent the game from bumping above 30fps.

Considering the commercial success of inFamous: Second Son, which sold roughly 700,000 copies worldwide in its launch week, it's great to see Sucker Punch is listening to the fans and rolling out updates in response.

Related Brainwaves
27th January

So what has it been like for Sucker Punch productions utilizing the Playstation 4 in order to create a frighteningly realistic Seattle, which just so happens...

22nd February

Following its reveal during the PlayStation 4 reveal, Sucker Punch Productions has released new information on its PlayStation 4 title and sequel to InFamous,...
Trending Articles
5th November

Fallout: Shadow of Boston and Fallout: The Ultimate Collection trademarks have been filed at the German patent office. The Office for Harmonization in...

9th March

Well the reviews are out and the new Tomb Raider seems to be the rare successful reboot. However poor Lara can't seem to catch a break. There is a game...

18th June

Legendary Game Designer Shigeru Miyamoto has told Kotaku that he feels that he made a bad game. Shigeru Miyamoto is famous for games like Metroid, Star...

16th October

Pokemon X & Y released worldwide on Saturday to the joy of millions - 4 million of whom purchased the game within the first two days. However, some of...

4th February

Borderlands 2 has some of the most enjoyable writing of a game released this generation, thanks to lead writer Anthony Burch (Hey Ash, Whatcha Playin'?)....