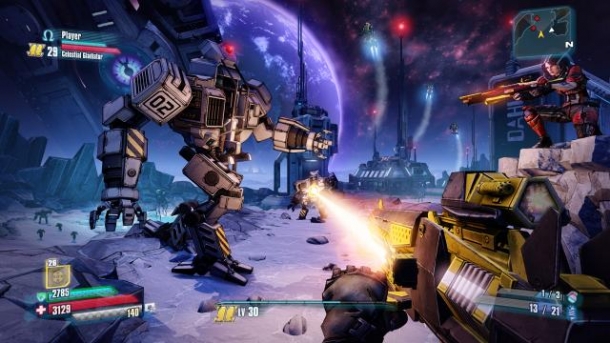 Once a rumor, now a confirmed pre-sequel. Welcome to the Hyperion Moon Base, Vault Hunters.

It's before the sequel!

The cliff-notes:

Release Date: Fall 2014

Platforms: PC, PlayStation 3, Xbox 360

Developed by: 2K Australia (most notable for contributing work on the BioShock series), with supervision of Gearbox Software: "There's been a lot of energy on their side put in," Pitchford said. "Gearbox has been able to help out with strategy with these guys and we had a couple of people involved early on. Now we have a lot of people involved, so we were able to get more people involved as things went on. But this has mostly been a 2K Australia-driven effort, and they've been 100 percent dedicated to this for a long time now."

Playable Characters:

-Athena, a former Atlas assassin first introduced in the Borderlands 1 DLC The Secret Armory of General Knoxx.

-Wilhelm, a Hyperion engineer who serves as a major boss in Borderlands 2.

-Claptrap the Fragtrap, who is exactly as it sounds: a playable Claptrap killing machine with its own personal POV.

-Nisha, the Sheriff of Lynchwood in Borderlands 2.

Location: The Hyperion Moon Base, seen as a floating vista in Borderlands 2.

Story: Set between the events of Borderlands 1 and 2, the Pre-Sequel will follow the rise of Handsome Jack, tentatively known as Jack. Randy Pitchford was quoted in Polygon as saying: "The story is about the rise of Handsome Jack, so it turns out, you'll discover, that he begins his journey maybe with morally good intentions. And throughout the course of this game, you'll see how he becomes the horrific, evil villain he is in Borderlands 2 that seems to have enjoyed cutting people's eyeballs out with a spoon. He wasn't always so bad."

Gameplay: Since the game is set in space, expect an environment which plays with gravity, oxygen supply, and more. Oxygen will be a lootable element on the Moon, called Oz Kits, and will be a key to your survival. Fun fact: Enemies with shields on their heads can be incapacitated if said shields are destroyed.

New Vehicles: A motorcycle? A gyrocopter? More information will be released in the future.

For Current-Gen Consoles Only, Randy Pitchford States:

"The game will launch on the platforms that all Borderlands customers are familiar with," Pitchford said. "So it's Xbox 360, PlayStation 3 and PC, and there is not a next-gen version of this. One hundred percent of the budget and the investment and the resources and the talent that have been invested into Borderlands Pre-Sequel have been spent to create content, have been spent to iterate technology from the Borderlands 2 engine. So none of the investment has gone toward creating new technology. None of the investment has gone towards figuring out how new platforms work. It's all about creating, focusing that energy on creation of entertainment and playable entertainment.

"The advantage of course is we know that all the people that played any of the Borderlands games before has these platforms, right. There's over 150 million installed PlayStation 3's and Xbox 360's. There are currently fewer PlayStation 4 and Xbox One's than the sold copies of Borderlands 2, and we do not expect a better than that tie-in rate. So it was a really natural decision for us to prioritize the platforms that are customers are on. That's one of the reasons why I wanted to make sure no one confused our energies as something that you might imagine a Borderlands 3 to be."

More information will be released in the future. For now, Vault Hunters have a lot of promise to look forward too. Are you ready to hop back in to the Borderlands universe?