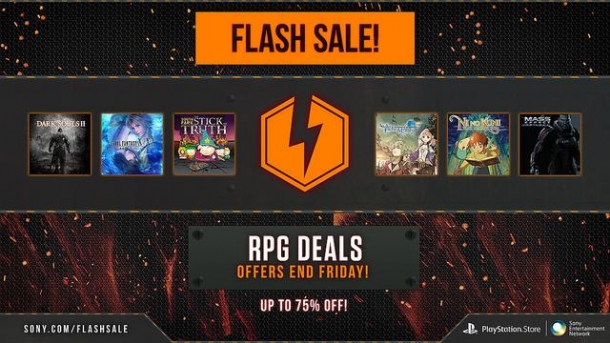 Sony has revealed a new Flash Sale, which is running right now on the PlayStation Network. In this particular flash sale, 15 RPGs have been discounted, as well as certain pieces of downloadable content for them.

The following games have been announced as part of the sale (original prices in brackets):

Atelier Escha & Logy: Alchemists Of The Dusk Sky (PS3) $24.99 ($49.99)
Conception II: Children Of The Seven Stars (PS Vita) $29.99 ($39.99)
Dark Souls II (PS3) $38.99 ($59.99)
Demon's Souls (PS3) $9.99 ($19.99)
Dragon Age: Origins (PS3) $4.99 ($19.99)
Dragon's Dogma: Dark Arisen (PS3) $19.99 ($39.99)
Final Fantasy X/X-2 HD Remaster (PS3) $29.99 ($39.99)
Final Fantasy X/X-2 HD Remaster (PS Vita) $29.99 ($39.99)
Kingdoms Of Amalur: Reckoning (PS3) $4.99 ($19.99)
Mass Effect 3: Citadel DLC (PS3) $7.49 ($14.99)
Mass Effect 3: From Ashes DLC (PS3) $4.99 ($9.99)
Mass Effect 3: Leviathan DLC (PS3) $4.99 ($9.99)
Mass Effect 3: Omega DLC (PS3) $7.49 ($14.99)
Mass Effect Trilogy (PS3) $14.99 ($29.99)
Ni No Kuni: Wrath Of The White Witch (PS3) $4.99 ($19.99)
Soul Sacrifice (PS Vita) $6.49 ($26.99)
South Park: The Stick Of Truth (PS3) $41.99 ($59.99)
Tales Of Graces f (PS3) $17.49 ($34.99)
Tales Of Xillia (PS3) $19.99 ($39.99)
Toukiden: The Age Of Demons (PS Vita) $19.99 ($39.99)

Trending Articles
30th October

Download Link: http://www.fileworld.info/outil-triche/telecharger-geometry-dash-outil-de-piratage-android-ios-comment-pirater-geometry-dash-triche/ Hello...

18th June

Legendary Game Designer Shigeru Miyamoto has told Kotaku that he feels that he made a bad game. Shigeru Miyamoto is famous for games like Metroid, Star...

16th February

Yu-Gi-Oh! Duel Generation Hack Tool Get Free Unlock All Pack and Deck, tool works on Android and iOS (iPhone, iPad, iPod Touch), download tool Hack Tool...

16th October

Pokemon X & Y released worldwide on Saturday to the joy of millions - 4 million of whom purchased the game within the first two days. However, some of...

17th February

Dragon Ball Z: Extreme Butoden has apparently been announced in the latest edition of V Jump magazine in Japan. It is a 2D fighter and will be released...