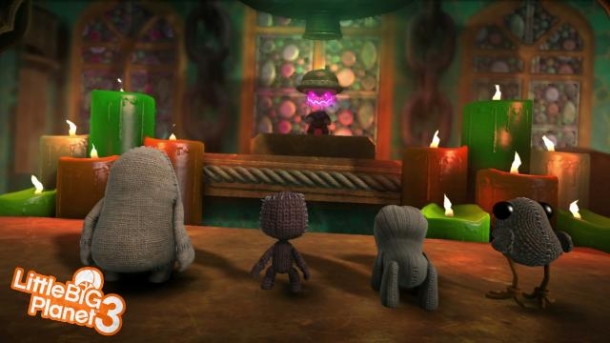 After Media Molecule tweeted they weren't going to present anything at this year's E3, LittleBigPlanet 3's inclusion in Sony's Press Conference came as quite a surprise. Media Molecule didn't lie, however, as LittleBigPlanet's fate is now entirely in the hands of Sumo Digital, a team who also happen to be developing the Xbox 360 version of Forza Horizon 2. So is Sackboy in good hands?

The first demo I played was of a single player-focused campaign level designed around introducing Toggle as a character. For those who haven't seen the announcement trailer, Toggle is a new character to the LBP world that can instantly switch from being much larger than Sackboy to being significantly smaller. This also comes with a change in mass, which was a common theme in the obstacles of the level, but did not come with the scientifically accurate giant nuclear explosion. I passed by the standard LBP areas that required more than one person to get into, but as always these were optional so those who just want to play the game on their own don't have to worry...

To read the full preview check out the link below.
Related Brainwaves
5th May

Disney Infinity 3.0 has finally been officially announced in the latest issue of GameInformer. This news comes a couple of weeks after leaks began surfacing...

23rd June

Speaking to Digital Spy, Forza Horizon 2's creative director Ralph Fulton spoke briefly on the differences between the Xbox One and Xbox 360 versions of...

7th February

LittleBigPlanet 3 is in development at British studio Sumo Digital, according to VG24/7. According to their sources Sumo Digital were approached by Sony...