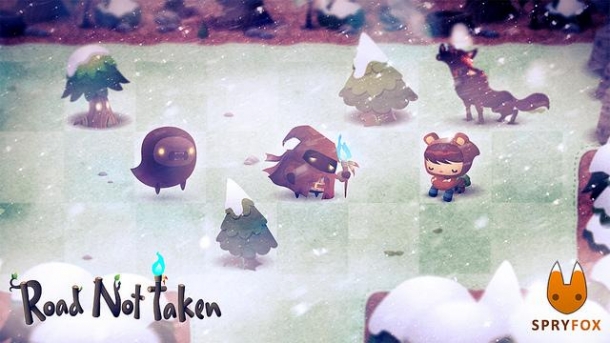 Road Not Taken is a rogue-like, randomly generated puzzle game where you play as a stranger visiting a small village. Every winter you come back to this village and attempt to find the children that have become lost in the forest. While you can develop relationships with the NPCs in the village (and even get married), you can never have children of your own, which probably plays into the character's motivation for saving other characters' children.

The puzzle aspect of Road Not Taken comes from combining certain objects on a given screen. Doors will be locked until you do something like put three trees next to each other or two rocks. While you could just pick up the objects and move them together, each step you take while carrying something will sap your energy and if your energy goes down to zero you die. However, anything you pick up can be thrown to the opposite side of the screen without cost. The end result is a game where you try to rearrange the objects on the screen in as few moves as possible in order to maintain your energy...

To read the full preview check out the link below.
Related Brainwaves
30th July

With the month of July coming to an end, it was only a matter of time until we learned about the new PSN Plus offerings coming in August. Today is that...