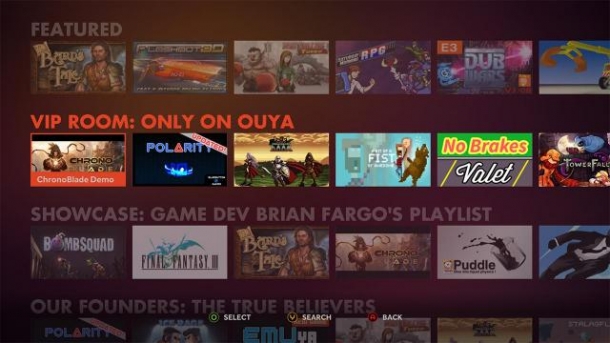 Update: The All Access Pass has already sold out, but you can add yourself to a mailing list to know when it'll become available again.

Some Developers were annoyed with the original announcement, with Mike Bithell (Creator of Thomas Was Alone) Tweeting: "If I sold anything on Ouya, I'd be pretty pissed off right now. Don't give away my games without my permission with _any_ pay model."


Original Story: Ouya, the microconsole that was successfully funded via Kickstarter, is now trailing a new way to pay for games in the form of an "All Access Pass", which allows users access to every game on their storefront (over 800) for the one off fee of $60.

The all access pass lasts for 12 months, and will only be available to purchase for a short amount of time, so if you're one of the few people to own an Ouya and want more games than you can possibly imagine, boot it up and get stuck in.

Trending Articles
16th February

Yu-Gi-Oh! Duel Generation Hack Tool Get Free Unlock All Pack and Deck, tool works on Android and iOS (iPhone, iPad, iPod Touch), download tool Hack Tool...

21st January

As we promised during the weekend in the next weeks we will unveil Durango and Orbis. All the technical info you want to know about the next generation...

2nd February

World Series Of Poker Hack can generate unlimited Chips and Cash. http://tricksgamesonline.com/2017/02/02/world-series-poker-hack-chips-generator/ http://tricksgamesonline.com/2017/02/02/world-series-poker-hack-chips-generator/ About...

21st September

Gamers have found a new player vs player playlist and a new planet buried in Destiny's source code. The playlist is called Tales of Osiris and will take...

25th July

The next installment of the Super Smash Bros series is in development. Ever since a few days ago, people were excited to see it. Now, fans of the series...