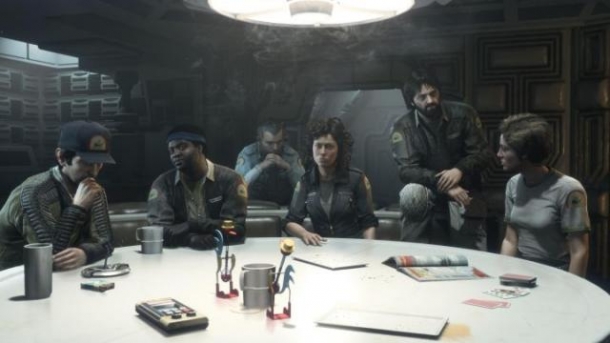 Sega really wants us to forget about Alien: Colonial Marines as Alien: Isolation approaches its release. If you are a fan of the original 1979 film, then this news is for you.

If you pre-order Alien: Isolation, you'll be upgraded to the 'Nostromo Edition', which gives you access to two DLC packs. The first is called 'Crew Expendable' in which you can play from the perspective of the crew members while trying to flush the Alien out of the ship. Your choices include: Dallas (Tom Skerrit), Lambert (Veronica Cartwight), Brett (Henry Dean Stanton), Parker (Yaphet Kotto), and Ripley (Sigourney Weaver).

The second DLC pack, titled 'Last Survivor', grants you exclusive control of Ripley as you relive the movie's final moments. Ripley activates the Nostromo's self-destruct sequence and must escape the ship.

IGN spoke to the game's director, Alistair Hope, in terms of constructing the DLC: "You're still confronting the alien, which is dynamic and reactive. It's not scripted, which I think fits perfectly with these characters trying to confront it and surprise it. Every time you play it's different."

And spoke of working with Sigourney Weaver on reprising her famous role: "It was unforgettable when Sigourney came in and started being Ellen Ripley again. It was quite special. The real joy was having Sigourney say, 'Ellen would say this.' We'd all look at each other, and say, 'yes, of course that's what she would say'. That's an insight we couldn't possibly have without working closely with those guys."


Look for Alien: Isolation to hit shelves on October 7th for PlayStation 4, Xbox One, PlayStation 3, Xbox 360, and PC.

Trending Articles
16th October

Pokemon X & Y released worldwide on Saturday to the joy of millions - 4 million of whom purchased the game within the first two days. However, some of...

21st September

Gamers have found a new player vs player playlist and a new planet buried in Destiny's source code. The playlist is called Tales of Osiris and will take...

5th November

Fallout: Shadow of Boston and Fallout: The Ultimate Collection trademarks have been filed at the German patent office. The Office for Harmonization in...

9th March

Well the reviews are out and the new Tomb Raider seems to be the rare successful reboot. However poor Lara can't seem to catch a break. There is a game...

4th February

Borderlands 2 has some of the most enjoyable writing of a game released this generation, thanks to lead writer Anthony Burch (Hey Ash, Whatcha Playin'?)....