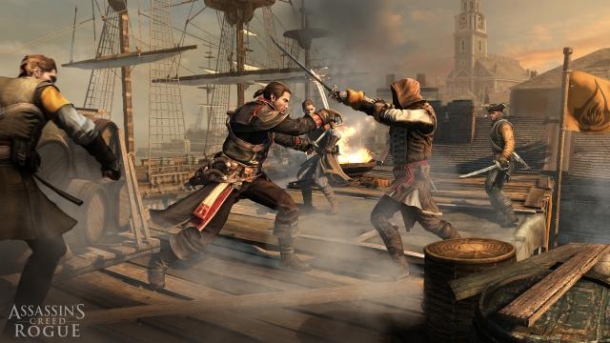 September's issue of Game Informer has given us new details about Assassin's Creed Rogue (formally known as Assassin's Creed Comet), which is set to release on November 11th for Xbox 360 and PS3.

"Rogue places fans in the shoes of a Templar, controlling former Assassin-turned-Templar Shay Patrick Cormac. Employing the popular naval gameplay from Black Flag, you navigate a ship across the frigid North Atlantic. Other locales you visit include the Appalachian River Valley and a reimagined New York. Shay is an assassin hunter who has to be even more clever to outsmart his sneaky foes. This entry takes place during the Seven Years' War, filling in the gap between Black Flag and Assassin's Creed III. We won't spoil much, but it has a crucial link to the Kenway saga. Our exclusive feature gives more insight into Shay, details how the cold waters are different from Black Flag's Caribbean setting, and discusses the tools Shay has at his disposal for outsmarting assassins. The Seven Years' War is part of what lead to France's financial troubles, and it's hinted that Shay has even deeper ties to Unity."
Trending Articles
6th January

When it comes to video games with deep stories, huge open worlds, and complex battle systems, nothing comes close to the RPG. Few genres are more diverse...

4th February

Borderlands 2 has some of the most enjoyable writing of a game released this generation, thanks to lead writer Anthony Burch (Hey Ash, Whatcha Playin'?)....

5th November

Fallout: Shadow of Boston and Fallout: The Ultimate Collection trademarks have been filed at the German patent office. The Office for Harmonization in...

28th November

These are some tips and/or tricks that almost everyone can use for Glory of Generals. 1. Upgrade your Commander first. The Commander is very important...

21st January

As we promised during the weekend in the next weeks we will unveil Durango and Orbis. All the technical info you want to know about the next generation...