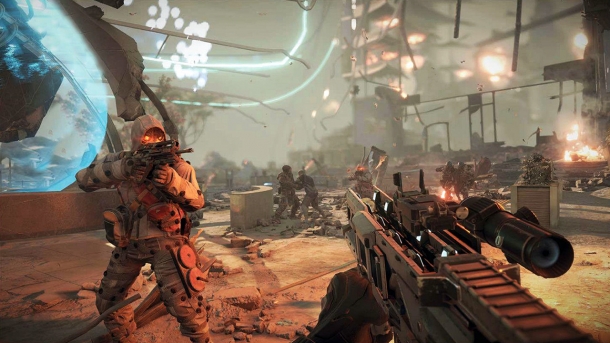 A lawsuit has been filed against Sony Computer Entertainment America by Californian resident Douglas Ladore over the PlayStation 4 game Killzone: Shadow Fall. The lawsuit alleges "deceptive marketing" because the game's multiplayer mode does not run at the resolution advertised.

Earlier this March, Eurogamer's Digital Foundry reported that Killzone: Shadow Fall's multiplayer mode ran at "960 x 1080" resolution as opposed to "1920 x 1080" resolution, using a "high-quality temporal upscale."

The lawsuit claims that because Sony advertised native 1080p graphics through its official website and the game's retail packaging, but instead opted to use "a technological shortcut", Sony is guilty of negligent misrepresentation, false advertisement, unfair competition and fraud inducement. The amount sought in the lawsuit exceeds $5,000,000.

The lawsuit was filed by law firm Edelson PC, which previously filed a putative class action suit against Sony and Electronic Arts in 2011 over their failure to provide a promised free copy of Battlefield 1943 to PlayStation 3 owners who purchased Battlefield 3. The law firm also filed a class action lawsuit against Sega and Gearbox, alleging false advertisement of Aliens: Colonial Marines.
Trending Articles
16th October

Pokemon X & Y released worldwide on Saturday to the joy of millions - 4 million of whom purchased the game within the first two days. However, some of...

25th July

The next installment of the Super Smash Bros series is in development. Ever since a few days ago, people were excited to see it. Now, fans of the series...

4th February

Borderlands 2 has some of the most enjoyable writing of a game released this generation, thanks to lead writer Anthony Burch (Hey Ash, Whatcha Playin'?)....

21st September

Gamers have found a new player vs player playlist and a new planet buried in Destiny's source code. The playlist is called Tales of Osiris and will take...

16th February

Yu-Gi-Oh! Duel Generation Hack Tool Get Free Unlock All Pack and Deck, tool works on Android and iOS (iPhone, iPad, iPod Touch), download tool Hack Tool...