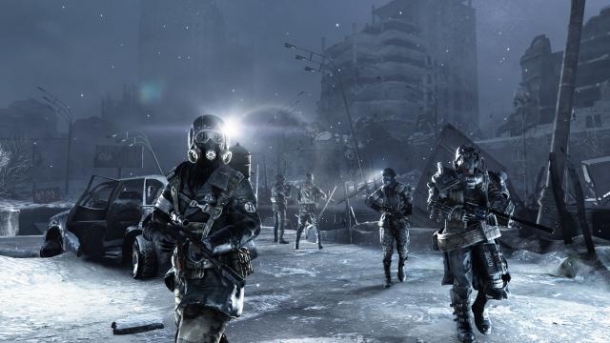 A new week is upon us once again, so of course that means a new This Week on Steam! Here's the best of what Steam has to offer this upcoming week.

This Week's Top Picks

Super Time Force Ultra

The fine men and women at Capybara Games have been giving us great games for years now, including titles like Critter Crunch and Might & Magic: Clash of Heroes. Today Super Time Force Ultra, (or STFU… for short) enters the spotlight, an upgraded version of the time traveling action-platformer which came out on Xbox platforms this spring.

Capybara describe the game best by saying "Super Time Force isn't what would happen if Braid and Contra had a baby. Super Time Force is what would happen if Braid and Contra had a party!" STFU just released today at a price of $13.49, due to a 10% discount, which will last until September 1st.



Metro 2033 Redux & Metro: Last Lights Redux

Metro 2033 and Metro: Last Light both received critical praise when they were released in 2010 and 2013 respectively. 4A Games are now releasing upgraded versions of both games on August 26th. The Redux versions use the latest version of 4A's engine, which has improved graphics compared to Last Light's engine. Metro 2033 Redux, meanwhile, had to be built from the ground up because of this change, and the game will also include all of the original DLC. Both games also include few new features, such as a new "Survival" playstyle for Metro: Last Light Redux. Each game will be priced at $25, however those who own one of the "original" versions will get a 50% discount off that title's Redux version if they pre-order. This discount will disappear after the game releases on Steam tomorrow (around 1PM EST).


The Rest of This Week's Games

8/25

Biglands: Platformer/Adventure ($4.99)
The Journey Down: Chapter Two: Point-and-Click ($8.09 for the first week, $8.99 normally)


8/26

See No Evil: Puzzle/Adventure (No price yet)
Appointment With F.E.A.R: Visual Novel ($4.79 when pre-ordered via their site, $5.99 normally)


8/27

Airship Dragoon: Strategy ($19.99)
FATE: The Traitor Soul: Action/RPG ($9.99)
Toast Time: Action/Shoot-em-Up ($4.49 for the first week, $4.99 normally)
Bird Assassin: Action ($1.99)
Lethal League: Action/Fighter ($13.99)


8/28

Draconian Wars: Strategy/Card Games ($5.09 for the first week, $5.99 normally)

8/29

GoD Factory: Wingmen: Action/Simulation ($19.99)
To End All Wars: Strategy/Simulation (No price yet, but will be discounted at launch)


Finally, as always, there's a new set of games for this week's Weeklong Deals. The most notable games that are part of this deal are: Super Sanctum TD for $.99, The Journey Down: Chapter One for $.69, Half Minute Hero: The Second Coming for $13.39 (includes the first game as well this week), Killing Floor for $4.99, and Deponia for $1.99.

Related Brainwaves
30th August

Sony has announced all of the games that will be releasing this week on the PlayStation 4, PlayStation 3, and PlayStation Vita in the US. 14 games in total...

25th August

Sony yesterday revealed September's free games for PlayStation Plus subscribers. These titles will be made available to download for free from 1st September. The...