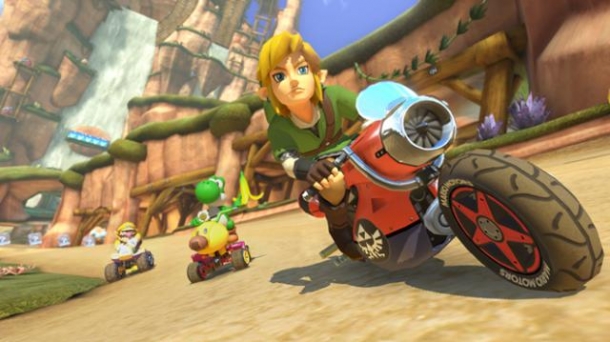 Nintendo has been quiet on the Wii U's newest hit, Mario Kart 8, ever since announcing the Mercedes DLC which is set to release tomorrow. Today, however, the Nintendo UK website accidentally leaked the details regarding two future DLC packs that will be coming to MK8.

The first pack is expected to come out in November and will include: Cat Suit Peach, Tanooki Mario and Link (yes, that Link). Along with those three characters there will be 4 new vehicles and 8 new tracks, which include one from Zelda and another from F-Zero. The AOC (Add On Content) Pack will be selling for £7.00, which means we in the US should be getting it for $10-15.

The second pack has a release date of May 2015 and will include: Dry Bowser, Villager and Isabelle (your dog aide in Animal Crossing: New Leaf). Like the first pack this will also include 4 new vehicles and 8 new tracks and is the same price as the first.

Those who buy both packs (bundled or separately) will also receive 8 different colored Yoshis and 8 different colored Shy Guys to use right away.