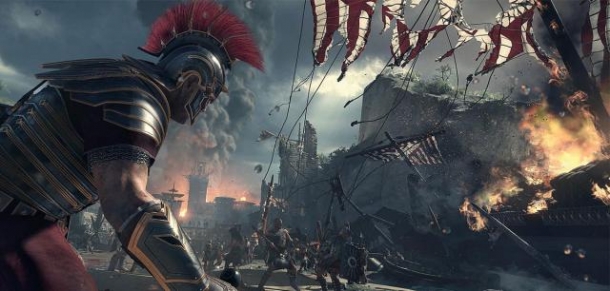 Ryse: Son of Rome, the formerly-exclusive Xbox One launch title has finally gotten a PC release date, according to its listing on Steam.

The game is set to be released on October 10th and will include all of the DLC that was released on Xbox One for $39.99/£34.99.

Along with the release date and confirmation that it will support 4K resolutions, Ryse's minimum and recommended specs have also been revealed:

Minimum:

OS: Windows Vista SP1, Windows 7 or Windows 8 (64bit)
Processor: Intel Dual-Core 2.8 GHz/ AMD Dual-Core 3.2 GHz or better
Memory: 4GB RAM
Graphics: DirectX 11 graphics card with 1GB video RAM
DirectX: Version 11
Hard Drive: 26GB available space
Sound Card: DirectX compatible Sound Card with latest drivers

Recommended:

OS: Windows Vista SP1, Windows 7 or Windows 8 (64bit)
Processor: Intel Quad-Core or AMD Octo-Core
Memory: 8GB RAM
Graphics: DirectX 11 graphics card with 4GB video RAM
DirectX: Version 11
Hard Drive: 26GB available space
Sound Card: DirectX compatible Sound Card with latest drivers


Trending Articles
25th July

The next installment of the Super Smash Bros series is in development. Ever since a few days ago, people were excited to see it. Now, fans of the series...

16th February

Yu-Gi-Oh! Duel Generation Hack Tool Get Free Unlock All Pack and Deck, tool works on Android and iOS (iPhone, iPad, iPod Touch), download tool Hack Tool...

28th November

These are some tips and/or tricks that almost everyone can use for Glory of Generals. 1. Upgrade your Commander first. The Commander is very important...

4th February

Borderlands 2 has some of the most enjoyable writing of a game released this generation, thanks to lead writer Anthony Burch (Hey Ash, Whatcha Playin'?)....

16th October

Pokemon X & Y released worldwide on Saturday to the joy of millions - 4 million of whom purchased the game within the first two days. However, some of...