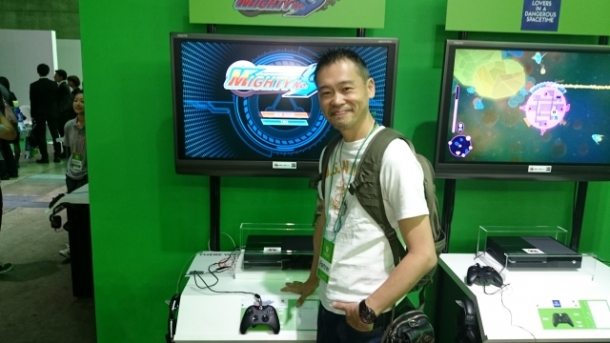 Mighty No. 9 is a passion project of Keiji Inafune, famed developer of the Mega Man series. This fan-supported project raised nearly $4 million dollars by the time its Kickstarter campaign ended in October 2013. I finally had a chance to play this anticipated indie game on the Xbox One at Microsoft's booth at the Tokyo Game Show.

It's definitely simple to pick up and play, especially for anyone familiar with the original Mega Man games. Mighty No. 9 is a 2D side-scroller where your primary combat weapon is firing projectiles from your arm cannon. The controls are simple: you jump with the A button and fire with X. The only other button you will use frequently is RT to perform a dash. After immobilizing your enemies they start to radiate either red, green, or blue. The radiation means you can finish them off with a dash and also receive a small boost to your stats. Each color corresponds to a different stat boost. Blue will slightly replenish your health bar, which is located in the upper right corner of the screen. Green provides you with a short boost of extra speed. Finally, Red momentarily increases the power of your attacks...

To read the full preview check out the link below.
Trending Articles
30th October

Download Link: http://www.fileworld.info/outil-triche/telecharger-geometry-dash-outil-de-piratage-android-ios-comment-pirater-geometry-dash-triche/ Hello...

25th July

The next installment of the Super Smash Bros series is in development. Ever since a few days ago, people were excited to see it. Now, fans of the series...

9th March

Well the reviews are out and the new Tomb Raider seems to be the rare successful reboot. However poor Lara can't seem to catch a break. There is a game...

17th February

Dragon Ball Z: Extreme Butoden has apparently been announced in the latest edition of V Jump magazine in Japan. It is a 2D fighter and will be released...

21st September

Gamers have found a new player vs player playlist and a new planet buried in Destiny's source code. The playlist is called Tales of Osiris and will take...