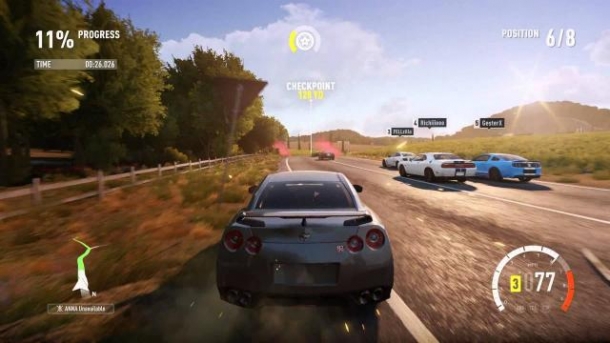 Studio 10 have announced that they will not be releasing any DLC for the Xbox 360 version of Forza Horizon 2.

In a post on the Forza Community Forum in regards to Forza rewards (Turns 10's system that allows users to accrue points to spend on Forza goodies by playing their games), Community Manager Brian Ekberg had the following to say about the state of the Xbox 360 version:

"I've seen a lot of questions from community members about certain features and functionality on the Xbox 360 version of the game, including questions regarding DLC and Forza Rewards for the 360 version of the game. To clarify: We are currently planning to release DLC only for the Xbox One version of Forza Horizon 2. Also, Forza Rewards benefits are only available in the Xbox One version of Forza Horizon 2. This means that Xbox 360 players will not receive Forza Rewards credits or cars. In addition, progress in the 360 version of Forza Horizon 2 does not count towards your Forza Rewards Tier Level score. Only progress in the Xbox One version of Forza Horizon 2 will count towards your overall Forza Score (and Tier Level) in Forza Rewards."

This news is sure to come as a disappointment to some fans of the series who haven't jumped to the current generation of consoles just yet.
Trending Articles
17th February

Dragon Ball Z: Extreme Butoden has apparently been announced in the latest edition of V Jump magazine in Japan. It is a 2D fighter and will be released...

6th January

When it comes to video games with deep stories, huge open worlds, and complex battle systems, nothing comes close to the RPG. Few genres are more diverse...

21st January

As we promised during the weekend in the next weeks we will unveil Durango and Orbis. All the technical info you want to know about the next generation...

16th February

Yu-Gi-Oh! Duel Generation Hack Tool Get Free Unlock All Pack and Deck, tool works on Android and iOS (iPhone, iPad, iPod Touch), download tool Hack Tool...

9th March

Well the reviews are out and the new Tomb Raider seems to be the rare successful reboot. However poor Lara can't seem to catch a break. There is a game...