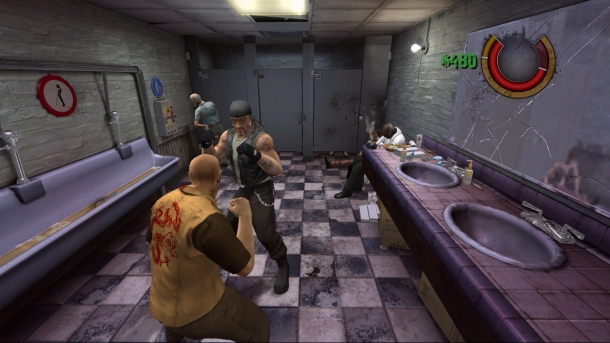 It's been revealed that THQ was working with developers Heavy Iron Studios to create a Saints Row beat 'em up game called The Cooler, according to Unseen 64.

The game, which was planned for Xbox 360 and PlayStation 3, would also have utilized Kinect or Move, respectively.

A former artist at Heavy Iron Studios is quoted as saying:

"It was a brawler game. Go to a bar, pick a fight, smash a bottle over someone's head.

It was a ton of fun to work on because we got to use the original Saint's Row locales as concept art, basically, and give them a redesign and a highly upgraded art treatment (since Saint's Row was open world and our game was not, we could afford to devote more time and engine resources to artwork)"

Apparently, you could also spend time taking part in side activities such as poker and lap dances:

"Basically, the Cooler was meant to be a Kinect-based fighting game, similar to The Fight: Lights Out, but in the Saint's Row universe with lots of fighting matches in about 8 of the Saint's Row locales, plus a few new locations we crafted, and a bar ecosystem where the player could order drinks, get lap dances, gamble, etc."

After six months of work on the project, which was at that stage 60% complete, THQ reportedly stepped in and cancelled the game.