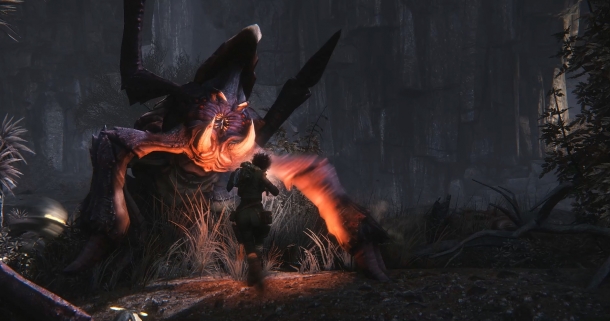 Given the amount of awards Evolve has already won, you could be forgiven for thinking the game had already released. In actuality, of course, it won't out until February 2015, but when it does launch Evolve will aim to shake up the cooperative multiplayer scene. Evolve's Alpha commenced this weekend, and I managed to try the game out on both the PC and Xbox One.

Evolve is a 4v1 multiplayer shooter, meaning four people will team up - each member with specific roles - to take down one monster, controlled by the fifth player. It's the monster's objective to either kill and consume enough animals on the planet to reach level 3 of its evolution, which allows it to take down a specific part of the map, or to kill every enemy team member. When playing as one of the four team members, your only objective is to take down the monster, ensuring you win the round.

The Alpha comes with two maps, eight player characters (four have to be unlocked), and two monsters (one has to be unlocked); enough content to allow you to get to grips with the game's core mechanics ahead of its launch. When you first start the game up, Evolve asks you which member of the team you'd most like to play as and will then try to ensure you get one of the roles you prefer when matchmaking, from highest to lowest priority. It was thanks to this priority system that I easily managed to play as every class in the Alpha in fairly short order...

To read the full preview check out the link below.