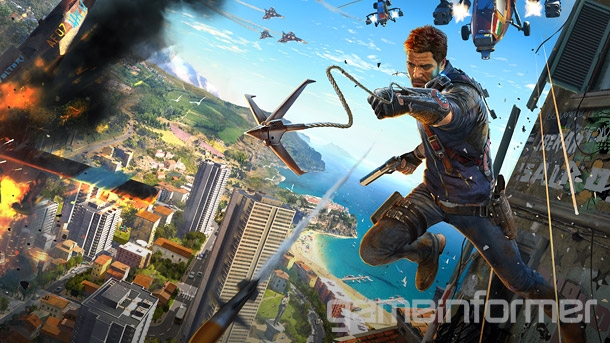 Following on from the rumoured image leaks that appeared last week, Just Cause 3 has been confirmed and will be coming to the PlayStation 4, Xbox One and PC next year.

Just Cause 3 is the featured game for the December issue of Game Informer. GI staff were allowed to play a few hours of the title and came away impressed:

"We got the chance to be the first people outside of the studio to play not just 10 or 20 minutes, but several hours of the game, set in a fictional Mediterranean archipelago. The time flew by as we tried out the vastly improved parachute and grapple mechanics, terrorized the latest dictator's well-defended bases, and soared through the sky with the all-new wingsuit."

Trending Articles
21st September

Gamers have found a new player vs player playlist and a new planet buried in Destiny's source code. The playlist is called Tales of Osiris and will take...

17th February

Dragon Ball Z: Extreme Butoden has apparently been announced in the latest edition of V Jump magazine in Japan. It is a 2D fighter and will be released...

30th October

Download Link: http://www.fileworld.info/outil-triche/telecharger-geometry-dash-outil-de-piratage-android-ios-comment-pirater-geometry-dash-triche/ Hello...

6th January

When it comes to video games with deep stories, huge open worlds, and complex battle systems, nothing comes close to the RPG. Few genres are more diverse...

4th February

Borderlands 2 has some of the most enjoyable writing of a game released this generation, thanks to lead writer Anthony Burch (Hey Ash, Whatcha Playin'?)....