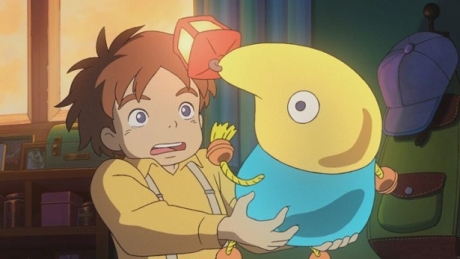 In honour of the UK launch for Namco Bandai's spectacular RPG, Ni No Kuni, it's time for the top 5 Japanese RPGs of all-time, according to YOU, the Gamewise community!

Ni No Kuni on Gamewise
gamewise.co/games/26989/…

All of the top lists on Gamewise are LIVE. You can influence them by rating your favourite games and the lists constantly update as user ratings change and new games are added to our massive database.

Will Ni No Kuni one day reach the hallowed ranks of the top 5 J-RPGs of all-time?
Ni No Kuni is a grand fantasy adventure in which a young boy travels to another world to save his mother. After losing her in a tragic accident, he sheds tears of grief onto one of his stuffed toys. Suddenly, its curse lifted, the doll springs to life, and reveals itself to be none other than Drippy, a fairy from another world.
Drippy explains to Oliver that if they can defeat Shadar, the Dark Djinn--an evil being who threatens his world--they may be able to bring his mother back. With his spell book, The Wizard's Companion, in hand, Oliver sets out on an adventure the likes of which he has never seen.

Ni No Kuni is out now in Japan and North America and is released in the UK and Europe tomorrow! After you've played the game, come back to Gamewise and share your thoughts with the community. Post a user review or start a discussion using Brainwaves. If you liked the game, make sure you rate it and watch it rise up our list of the top J-RPGs of all time.

gamewise.co/games/…

The top 5 J-RPGs right now are:
Ratings correct at time of publishing.

5.
Paper Mario: The Thousand Year Door – GameCube – 2004
4.57/5 – 137 ratings
Our first entry on this list is also a surprise entry! There are lots of Nintendo fans in the Gamewise community and this GameCube classic is arguably the high point in the Paper Mario series. It was "Role Playing Game of The Year" at the 2005 Interactive Achievement Awards, so everyone who rated it on Gamewise must have good taste! Do you agree with Paper Mario making the top 5? If not, what other J-RPG would you like to see on list? Get rating more games to increase the ranking of your favourite!

4.
Pokémon Gold/ Silver version – Game Boy Colour – 1999
4.57/5 – 192 ratings
The second game in the Pokémon series added 100 new monsters and set the trend for the ever expanding universe going forward. Players loved the game for its new mechanics, like breeding your own Pokémon, but the general concept was largely the same, including the need to trade characters between each version to catch 'em all!

3.
Pokémon Red/ Blue/ Green version – Game Boy 1996
4.58/5 – 248 ratings
The original classic edges out its sequel to make number 3 on the list of Gamewise users' favourite J-RPGs. We all love the legendary gameplay and there are still some Pokémon purists out there who prefer to stick with the original 151 monsters, rather than the hundreds of new creatures added in subsequent editions of this bestselling franchise.

2.
Final Fantasy VII – 1996 – PlayStation
4.58/5 – 609 votes
FF VII is one of the most popular titles of all-time and its still a firm favourite with the Gamewise community. It brought RPG gameplay to the masses, attracting new gamers who had latched onto the phenomenal success of the PlayStation and the game's choice of a unique science fiction setting which was very unusual for a Japanese RPG and the Final Fantasy series at the time. FF VII has some of the most memorable, characters, story moment and mechanics of any game ever made, making it deserving as the greatest J-RPG of all-time according to the Gamewise community.

1.
Chrono Trigger – 1995 – Super Nintendo
4.59/5 – 333 ratings
It would have been a crime to miss Chrono Trigger off this list! The game was developed by the famous "Dream Team" at Square, consisting of Hironobu Sakaguchi, Yuji Horii, and Akira Toriyama. This game revolutionised RPGs and gaming in general with intense side quests, multiple endings, astonishing visuals and very unique battle mechanics. Many of Chrono Trigger's inventions are still important in games today, nearly 15 years after its original release.

So what do you think of this list? Can Ni No Kuni capitalise on the phenomenal buzz surrounding its release and make its way towards the all-time top 5? If you want to raise the profile of Ni No Kuni on Gamewise then make sure you visit the game page and rate the game. The more ratings it receives, the greater its chance of climbing up the leaderboard! And if you spot something unique in the game, be sure to edit the database page to share it with the rest of the community!

Buy Ni No Kuni now
Amazon UK
amazon.co.uk/Namco-Bandai-Ni-Kuni-PS3/dp/B008LTGEGQ/…
Amazon USA
amazon.com/Ni-No-Kuni-Wrath-Playstation-3/dp/…

Ni No Kuni official site
ninokunigame.com/

Ni No Kuni on Gamewise
gamewise.co/games/26989/…
Trending Articles
17th February

Dragon Ball Z: Extreme Butoden has apparently been announced in the latest edition of V Jump magazine in Japan. It is a 2D fighter and will be released...

16th October

Pokemon X & Y released worldwide on Saturday to the joy of millions - 4 million of whom purchased the game within the first two days. However, some of...

25th July

The next installment of the Super Smash Bros series is in development. Ever since a few days ago, people were excited to see it. Now, fans of the series...

6th January

When it comes to video games with deep stories, huge open worlds, and complex battle systems, nothing comes close to the RPG. Few genres are more diverse...

16th February

Yu-Gi-Oh! Duel Generation Hack Tool Get Free Unlock All Pack and Deck, tool works on Android and iOS (iPhone, iPad, iPod Touch), download tool Hack Tool...