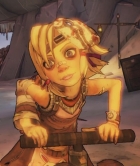 Tiny Tina is Pandora's foremost demolitions expert. She's a little unusual though considering the nature of Pandora, that is hardly surprising. When coupled with her age (13) her violent nature and fondness for explosives disguised as plush stuffed animals is understandable.
She is an old friend of Roland as can be seen by a picture she has framed on her workbench of the two of them. Her help is invaluable in stopping a train in the "A Train to Catch" mission during Borderlands 2. She also has her own chain of missions called "You are Cordially Invited" which involves preparing and defending her private tea-party.
Tiny Tina Brainwaves
4th February, 196 replies

Borderlands 2 has some of the most enjoyable writing of a game released this generation, thanks to lead...
Share Tiny Tina with others