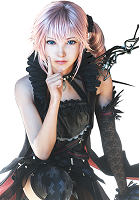 Lumina is a mysterious character that resembles Lightning's sister, Serah, in Lightning Returns: Final Fantasy XIII. Her motives for what she does is unknown, although she seems to like to toy with Lightning and the people of Nova Chrysalia. At times, she will actually help Lightning, but there are times where she will get in the way.
Latest Games
Developed by Square Enix for WIN, PS3, X360

Lightning Returns: Final Fantasy XIII is a role-playing game developed and published by

Square Enix

for the

PlayStation 3

and

Xbox 360

. It will be released on November 21, 2013 in Japan, on February 11, 2014 for North America and February 14, 2014 in Europe. Lightning Returns is set to conclude the Final Fantasy XIII Lightning Saga.
Lumina (Final Fantasy) Brainwaves
Share Lumina (Final Fantasy) with others