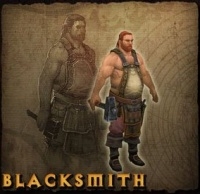 Blacksmith concept art.


Biography & Background:


The Blacksmith, Haedrig Eamon, is first encountered in New Tristram, Act I. He was a resident of New Tristram when the meteor struck the Monastery. In the ensuing chaos his wife and child were slain by demons, only to come back to life as zombies. The hero is tasked with putting their souls to rest by finding and killing them, once and for all. In return, Haedrig undertakes to assist the player in his battle against evil for the rest of the game.
"In the harried world of Sanctuary, the job of forging arms and armor is rightly associated with loss. A smith's handiwork serves many purposes. These tools of the trade are used to kill, to protect, and often wind up interred with the corpses that carried them into battle.

It's said that only those who have looked death in the eye can craft the weapons of war. If this is true, then gruff Haedrig Eamon was born to strike an anvil. Death looms over his past and present, following him from his tragic youth in Caldeum to his home in cursed New Tristram.

The horrors engulfing his town have galvanized Haedrig to action. Though the forge has never been his true passion, the powers that now threaten to consume Sanctuary have driven him to do more than simply shoe horses.

He'll support your journey in the only way he can – by burying himself in his work and crafting an arsenal fit to wield against the evils of the Burning Hells."[0]


Services:


Haedrig offers two key services: Forging items, and Salvaging items.

Salvaging - The materials the player will use to craft items in the game will primarily come from salvaging. Haedrig can salvage any magical, rare, set or legendary items that are of no use to the player and convert them into raw materials. These raw materials - or crafting items - will vary depending on the rarity of the item salvaged.

Crafting items in Diablo III take up much less space than they did in Diablo II, since all crafting items are 'stackable', with up to 100 of the same material type taking up one square.

Forging - Haedrig can also create weapons and armour from the materials you scavenge or salvage, in return for a gold fee. The item created will feature certain pre-set and some random magical properties, and the power of the recipes available to the player will increase as they level up the Blacksmith, effectively allowing Haaedrig's items to scale with the game's difficulty, provided the player choose to invest in leveling him of course.



Leveling:

Initially, the Blacksmith can be leveled up in exchange for a set amount of gold. In order to be leveled up, Haaedrig must effectively be 'trained' five times at each level, with each new step granting him access to new and improved item recipes, and each new level improving the appearance of his wagon.

Eventually, however, the player will be required to provide Pages of Training, as well as gold, in order to level him up.