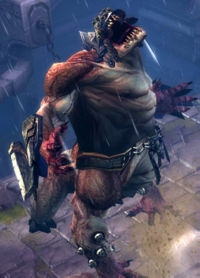 Siegebreaker Assault Beast in-game.
The Siegebreaker Assault Beast was the first large boss monster to be revealed by Blizzard for Diablo III in a Worldwide Invitational 2008 gameplay trailer. The trailer was heavily scripted, so his final appearance in the game is unlikely to mirror his actions in the trailer too closely, though his impressive physical appearance is likely to remain unchanged.


Siegebreaker is purely a melee fighter, with an array of physical abilities, including a charging attack, a swipe attack, and a kind of trample attack that tears up the earth and creates clouds of smoke in front of him.

Little is known of the backstory behind the Siegebreaker yet, though it's likely that he's a type of demon created to turn the tide of sieges and battles.