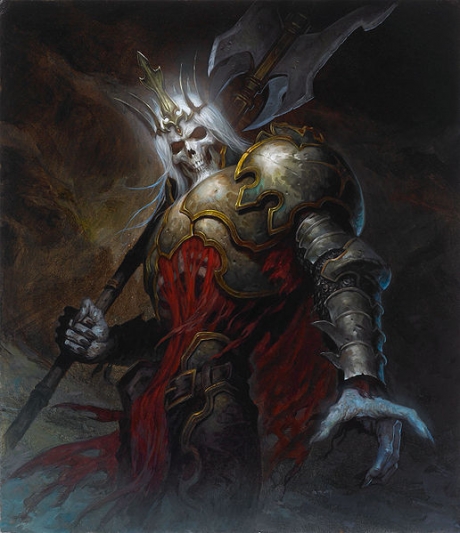 Skeleton King concept art.
The Skeleton King is the first main boss the player will encounter in Diablo III, and was the final encounter in the Diablo III Beta.

The Skeleton King is the undead King Leoric. Leoric was an Eastern Lord who crowned himself king of Khanduras, and in the short time that he ruled he was considered a generally popular figure and a just ruler. He established his throne in the town of Tristram, near the site of the Monastery which contained Diablo's soulstone. Diablo was strong enough to influence Leoric and drive him to madness. Eventually Leoric turned on his own people thanks to the corrupting influence of Diablo and executed those who disobeyed him.

Ultimately, Lachdanan, a knight loyal to the king, was forced to commit regicide. Diablo refused to let the dead king rest, however, and brought his skeleton back to life. Leoric was unable to leave his tomb, but was able to slay any adventurers who entered his lair until he was finally destroyed by the hero who went on to defeat Diablo in the original game. Leoric was allowed to rest for two decades following those events, but now evil seeks to once again give life to the Skeleton King.