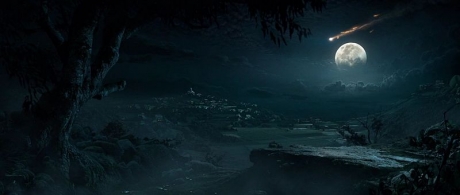 The meteor about to strike Tristram, the setting for Act I.

Act I takes place in Tristram - perhaps the most famous location in the Diablo series. In the original Diablo all of the action took place in and underneath Tristram, since Diablo had been imprisoned in Tristram's monastery. In Diablo II the player makes a brief visit to Tristram to rescue Deckard Cain; here Tristram has been razed to the ground by demons and most of its inhabitants slaughtered.

Diablo III kicks off, in the form of a cinematic introduction, with a comet crashing down onto Tristram's Cathedral. Soon after the comet lands the demons trapped within the catacombs below the Cathedral begin to stir. The events of Act I will primarily involve the player seeking to investigate the 'Fallen Star', and battling the demons that have been awoken below the Monastery, chief among them the Skeleton King.