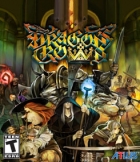 Dragon's Crown is an action role-playing beat-em-up that is developed by Vanillaware and published by Atlus in North America and Japan, while NIS America will publish the game in Europe for PlayStation 3 and PlayStation Vita. The first high-definition game that Vanillaware has developed, as well as the most expensive one, it was originally dropped by Ignition Entertainment in 2012 before being picked up by Atlus.
In a world where vast labyrinths and catacombs lie beneath civilization, magic-users seeking a legendary treasure known as the "Dragon's Crown" have used their sorcery in search of the treasure, which they plan to use for a sinister purpose. Luckily, six adventurers have teamed up to keep the crown out of the hands of evil in a search for treasure of their own.
Dragon's Crown Brainwaves
30th July, 0 replies

With the month of July coming to an end, it was only a matter of time until we learned about the new...

7th January, 0 replies

The PlayStation Vita steadily continues to build up a library of great games. 2013 brought with it a...

16th October, 1 replies

Vanillaware's most recent title, the controversially busty Dragon's Crown, launched in Japan and North...
Share Dragon's Crown with others