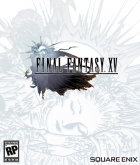 Final Fantasy XV ( formerly Final Fantasy Versus XIII ) is a distinct view of what the Final Fantasy franchise could be. It is an ambitious project that takes a courageous step toward the horizon of Action Role-Playing in a way that has never been seen in the previous Final Fantasy titles. Currentely, the game is in development for the PlayStation 4 and Xbox One under the leadership of Tetsuya Nomura of Square Enix.
Final Fantasy XV is woven around reality; it explores the humanity in the characters and their way of thinking in a world that suffered long years of cold war. However, the game also retains the fantasy theme of the franchise, as it reveals a darker face of Fabula Nova Crystallis mythology. In that world, stands a kingdom that chose the bliss of solitude for itself as it holds a unique source of power, a power that takes the shape of crystal. In the heart of the kingdom, stands a prince, Noctis Lucis Caelum, who harnesses that power for his kingdom to stand against the hell of others. A terrible war was waged out of greed, and everything was absorbed by madness.
Final Fantasy XV Brainwaves
25th May, 0 replies

Famitsu's latest poll of the most wanted games in Japan has been released. This poll ran from April 30...

27th March, 1 replies

Final Fantasy XV will feature an all-male cast, at least as far as main characters are concerned. This...

17th October, 0 replies

Final Fantasy XIII was originally planned as a grand creation spanning three different games with varying...
Share Final Fantasy XV with others