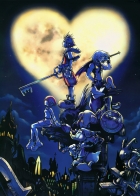 Kingdom Hearts is a game that follows the story of Sora, the Keyblade Master who has the power to open the doors between worlds. His friends Kairi and Riku go missing and Sora sets out to find them across the various worlds. He is joined by a variety of Disney characters when exploring their worlds including his constant companions Donald Duck and Goofy.
The game uses a lot of RPG elements such as level progression, items, equipment and magic along with a detailed story. The gameplay itself is instead like a 3D Action Adventure or Hack 'n Slash game which involves exploration, platforming and real-time 3D battling. Kingdom Hearts was critically aclaimed and went on to start a Kingdom Hearts of games starring the protagonist, Sora. Kingdom Hearts was originally released for the PlayStation 2 but is being rereleased this fall on the PlayStation 3 as part of Kingdom Hearts HD 1.5 ReMIX.
Kingdom Hearts Brainwaves
24th September, 0 replies

31st August, 1 replies

September marks the unofficial opening of the holiday season, where the big name games begin to release,...
Share Kingdom Hearts with others