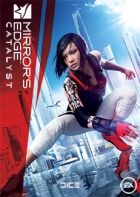 Mirror's Edge is an action platform game, with a first-person point of view, developed by DICE and published by Electronic Arts. No platforms have been announced for it yet, but the game is likely to be released on the PlayStation 4, Xbox One and Microsoft Windows.
Although the game will see the return of the original game's protagonist Faith Connors, Mirror's Edge is a reboot with advanced visuals and an all-new origin story for Faith.
Mirror's Edge Catalyst Brainwaves
10th June, 0 replies

A trademark for Mirror's Edge Catalyst was filed last week, as well as a domain name. EA DICE's senior...

8th June, 0 replies

Mirror's Edge Catalyst could be the official title for the next game in the Mirror's Edge series. J....

13th March, 0 replies

Free-running platform/action-adventure game Mirror's Edge gained a small but devout fanbase when it released...
Share Mirror's Edge Catalyst with others