Location: Undead Asylum - After escaping from your cell and reaching the first bonfire, you can enter the large double doors to encounter the Abyss Demon.
While you can attack him at this first encounter, the tutorial will assume that you will be unable to defeat the Abyss Demon straight away.
If you wish to follow the suggested tutorial route, hug the left wall and escape the boss fight and head into the tunnels. Make your way back through the tunnels and you will arrive on the balcony above the Demon. Use a plunging attack to gain the advantage and do a massive amount of damage. You can then finish him off with normal attacks.
Drops: 2,000 Souls, Humanity, Big Pilgrim's Key (2nd encounter only), Demon's Great Hammer (1st encounter only)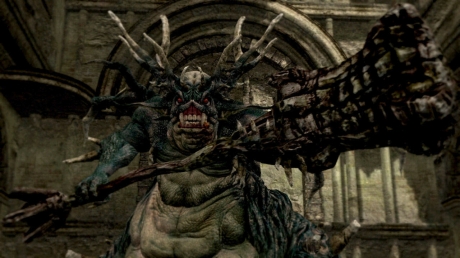 Attacks
Hammer Drive
When the demon raises its hammer vertically he is preparing this attack. A short range attack with poor tracking, you should easily be able to roll out of the way.
Butt Slam
When the demon flies slowing into the air he will be preparing to smash down into the ground with his butt. This attack has a wide radius, so it is best to back away as far as possible to avoid the damage from this attack. The long recovery afterwards will provide a great opportunity to attack.
Hammer Scoop
When you are sidestepping around the demon to its left, and are in range, he will sweep his hammer across the left side to hit you. In order to avoid this, roll at the last second or avoid being on his left side.
Hammer Backswing
This is the counterpart to the Hammer Scoop and covers his right side.
Hammer Smash
A downward smashing attack, this is one of the demons favorite attacks. Easily sidestepped, but be careful of rolling backward, as the attack has a great range.
Hammer Swing
Abyss' other favorite attack, he will usually switch between this and Hammer Smash for primary attacks. This too can be easily avoided with a timed roll.
Double Hammer Swing
A two swing version of Hammer Swing, be careful that you don't mistake this for the basic one and only dodge one attack. This can sometimes be followed with a single Hammer Swing to create a three-hit combo, so be careful.
Leaping Hammer Smash
A leaping version of Hammer Smash, this attack is used when you are a good distance from the demon. Watch for the flutter of his small wings and prepare to roll to one side to avoid this attack.
Strategy
HP: 813
Unless you are in NG+ or higher, you will only have a basic sword that deals very little damage. While it is possible to defeat him, it will take a great deal of time and skill. If you decide to escape and encounter him a second time, you will be able to perform a plunging attack from the balcony above, taking out half of its HP. Once you are on ground level, stick close to the demon and strafe around its feet to limit its attack options.