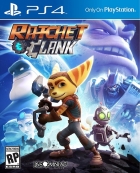 Ratchet & Clank is a platformer being developed by Insomniac Games and due to be published by Sony exclusively for the PlayStation 4. It is a reimagining of the original Ratchet & Clank, meant to coincide with the release of the upcoming movie, but will feature all-new content and levels, as well as a graphical overhaul.
Ratchet & Clank (2016) Brainwaves
10th June, 1 replies

The debut trailer and screenshots for the upcoming PS4 Ratchet & Clank title have been released. Amusingly...
Share Ratchet & Clank (2016) with others