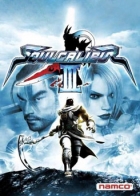 SoulCalibur III is a fighting game developed by Project Soul and released on PlayStation 2. The fourth installment in the SoulCalibur series, it features the new game modes Tales of Souls, Create-A-Soul Mode, and Chronicles of the Sword. It has the largest roster to date, with 24 playable characters in Tales of Souls and an additional 18 via the other modes.
SoulCalibur III Brainwaves
3rd May, 0 replies

Project Soul, the Bandai Namco subsidiary responsible for developing the SoulCalibur series of fighting...
Share SoulCalibur III with others