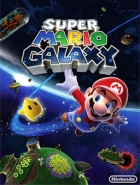 Super Mario Galaxy is a 3D platformer action game for the Wii, first released in 2007. It is the third Mario 3D platformer, and the follow-up to Super Mario 64 and Super Mario Sunshine. However, unlike the previous two 3D adventure installments for the Mario series, this game takes place in deep space. Most of the game's levels consist of many small planets and planetoids, while others have bigger planets. Upon release, Super Mario Galaxy received some of the highest review scores and appraisals of any Wii game to date.
Super Mario Galaxy Brainwaves
17th November, 1 replies

Here we are - the closing of this generation of video game systems. The PlayStation 4 and Xbox One are...

25th October, 1 replies

At a Nintendo roundtable interview this week attended by Gamespot, famed Nintendo developer and Mario...

1st October, 0 replies

Some less positive, if not directly negative, news coming out of Nintendo today alongside their Nintendo...
Share Super Mario Galaxy with others