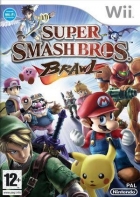 Super Smash Bros. Brawl is a fighter released in 2008 for the Wii. It is the third installment in the Super Smash Bros. franchise. The game sees well-known characters from a variety of popular Nintendo franchise such as Super Mario Bros., The Legend of Zelda and Pokemon, pitted against each other in battles in a variety settings from a large number of Nintendo franchise universes.
For the first time in a Super Smash Bros. game two third-party characters, Sonic and Snake, are playable. The roster features a total of 39 playable characters and 41 stages which the characters can fight on.
Super Smash Bros. Brawl Brainwaves
19th May, 1 replies

It looks as though we may know the European release month for the upcoming Super Smash Bros., on the...

17th November, 1 replies

Here we are - the closing of this generation of video game systems. The PlayStation 4 and Xbox One are...

1st October, 0 replies

Some less positive, if not directly negative, news coming out of Nintendo today alongside their Nintendo...
Share Super Smash Bros. Brawl with others