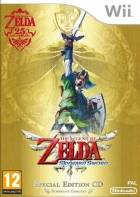 The Legend of Zelda: Skyward Sword is an action adventure game, exclusive to the Nintendo Wii, developed by Nintendo EAD and published by Nintendo.
It was hinted at from June 2008, and first shown at E3 2010. It was released in North America on November 20th 2010. It is the sixteenth game in the Zelda series, and features Wii Motion Plus implementation.
The Legend of Zelda: Skyward Sword Brainwaves
22nd April, 0 replies

There have been several new North American tour dates announced for season two of The Legend of Zelda:...

27th January, 2 replies

Early this week, Dark Horse announced that the 29th of January will see the release of a 276 page book...
Share The Legend of Zelda: Skyward Sword with others
The Legend of Zelda: Skyward Sword