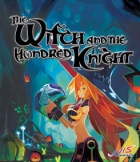 The Witch and the Hundred Knight is a role-playing hack and slash game developed by Nippon Ichi Software for PlayStation 3. The game follows the adventures of the Hundred Knight, who are controlled by the swamp witch Metallia.
Deep within the forest, there live two witches: the beautiful marsh witch, Metallia, and the ugly forest witch, Malia. Embroiled in a century-long conflict, Metallia wants to coat the world with swamp mud while Malia protects the forest and its inhabitants from the noxious fumes of the nearby swamp. Then one day, Metallia finds a legendary soldier slumbering in the depths of darkness, toppling the 100-year balance.
The Witch and the Hundred Knight Brainwaves
3rd March, 0 replies

There are a lot of complaints in this generation about games that have been remastered or ported to the...

16th April, 0 replies

Nippon Ichi Software has an ominous countdown on its Japanese website, set to end at 11am EDT on April...
Share The Witch and the Hundred Knight with others
The Witch and the Hundred Knight