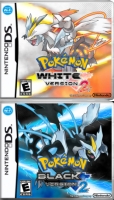 Pokemon Black / White Version 2 is an RPG with adventure elements, released exclusively for the Nintendo DS. Developed by Game Freak and published by Nintendo, it was released in Japan on June 23, 2012, on October 7 in the US, and October 12 in Europe.
The first direct sequel within the main Pokemon series, it takes place two years after the events of Pokemon Black / White Version. The player can play as one of two protagonists, who are given the task to collect information with their PokeDex on the Pokemon found within the Unova region, the game's setting. The region has drastically changed from the original game, with new locations that the player can explore. Through the protagonist's travels they fight battles with Pokemon, building their strength, challenge Pokemon Gym Leaders and eventually the Elite Four.
Pokemon Black 2/Pokemon White 2 Brainwaves
7th May, 3 replies

As new Pokemon games are released, older generations have been remade and re-released along with them....

27th December, 3 replies

Those hoping to transfer their Pokémon from Pokemon Black/White, Black/White 2 and X/Y to the PokeBank...
Share Pokemon Black 2/Pokemon White 2 with others
Pokemon Black 2/Pokemon White 2