The first thing that should be mentioned is that all combat, like exploration, is in first person view and rendered with 3D models, unlikes previous installments which used 2D sprites.
Encounters and F.O.E.s
As with the previous Etrian Odyssey games, there are two types of encounters that patrol the dungeons: normal encounters and powerful monsters called F.O.E.s.
Normal encounters happen randomly as the player makes their way through the dungeon, while F.O.E.s appear on the screen. While some F.O.E.s can are highly aggressive, while other will simply go about their business unless provoked. These monsters are highly dangerous and effectively serve as mini-bosses in the world. While avoidable, they give the party lots of experience and often drop rare loot that makes them worth fighting.
Combat
Upon entering combat, the player chooses from the following combat choices:
Attack
Skill
Burst
Item
Defense
Move
Escape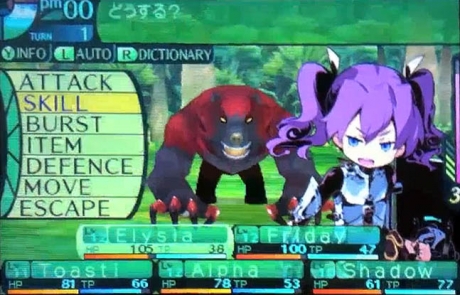 Burst Skills
While most of the above is self explanatory, the Burst system is new to Etrian Odyssey IV.
Burst skills are based on each individual character and are learned from books found during the game. Unlike skills, which use up the character's action, Burst skills grant an extra turn and offer different variety of effects. Many Boost skills simply buff the party for a turn, but some provide powerful attacks.
In order to use a Burst skill, the player will need to build up a Burst gauge, which is shared by the whole party. Burst skills can be customized per individual.
Skill Tree
Unlike previous Etrian Odyssey games, skill trees are now split into tiers that open up after 20 levels each:
Novice
Veteran (Level 20)
Master (Level 40)
Each skill has a point allocation between 1 and 10, while some skills require a certain number of points to unlock the skill farther up the tree.