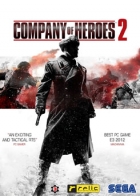 Developed by Relic Entertainment, Company of Heroes 2 is the sequel to the critically acclaimed RTS, Company of Heroes.
The game once again takes place during World War II and with the setting changed to the Eastern Front, players will take control of the USSR's Red Army at the start of Operation Barbaroossa in the spring of 1941 to the Battle of Berlin in 1945.
Company of Heroes 2 Brainwaves
17th June, 0 replies

The real time strategy genre has been through a sort or resurgence as of late, with titles like StarCraft...
Share Company of Heroes 2 with others