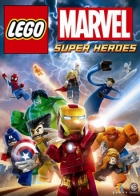 LEGO Marvel Super Heroes is an upcoming action-adventure video game, developed by Traveller's Tales for the Xbox 360, PlayStation 3, Wii U, Microsoft Windows, Nintendo DS, Nintendo 3DS and PlayStation Vita. The game will feature gameplay similar to other Lego titles, alternating between action sequences and puzzle-solving.
Featuring an original storyline, the game begins when Silver Surfer is blasted out of the sky and his surfboard is blown to pieces. These pieces, called Cosmic Bricks, contain immense power and Doctor Doom has gathered a bunch of villains to recover them for his own plans. However, Nick Fury has banded together a group of super heroes to stop Doom and other villains before they get their hands on these bricks.
LEGO Marvel Super Heroes Brainwaves
11th January, 1 replies

Launch years are notoriously lacklustre on the software front. Whilst a couple of big games may grace...

11th January, 0 replies

Generation launch years are always exciting, and although Sony's big first-party offerings Knack and...

30th October, 2 replies

Sony has unleashed a mammoth sized FAQ page on all things PlayStation 4, dubbed "PS4: The Ultimate FAQ",...
Share LEGO Marvel Super Heroes with others