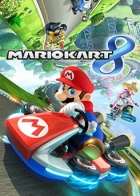 Mario Kart 8 is the eighth entry in the Mario Kart series of games, developed by Nintendo EAD and released exclusively on the Wii U. This will be the first installment of the series featured on an 8th-generation main console and supports up to four-player kart racing.
Mario Kart 8 follows the gameplay of the rest of the Mario Kart series, with up to four players racing against CPU players to pass the finish line first on a variety of courses. The game features a variety of weapons, which players are encouraged to collect and use against other characters in order to achieve victory. The game strongly draws from the significant changes added in Mario Kart 7, and also adds in new features such as gravity-switching.
Mario Kart 8 Brainwaves
9 days ago, 0 replies

Nintendo's eighth generation home console, the Wii U, has hit a new milestone in the US. The console...

11 days ago, 0 replies

Nintendo of Japan's YouTube channel yesterday released a number of trailers showcasing the second DLC...

11th January, 0 replies

Music is one of the most important aspects of a game's presentation. Music can incite excitement, fear,...
Share Mario Kart 8 with others