FIFA 14 is a soccer simulation game based on FIFA football, where players will be able to play against others worldwide. The game offers a variety of different modes that return from FIFA Soccer 13, as well as introduces a number of new features, such as enhanced physics.
Game Modes
Season Mode
Similar to the Season Mode found in NHL 14, the player chooses a team from any available league and plays according to their real schedule.
Career Mode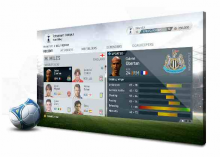 Also very similar to the sister mode found NHL 14, Career Mode lets the player simulate a soccer career, all the way from the minor leagues to the major FIFA leagues.
New additions include a Global Scouting Network through most countries, allowing the player to hire a scout and search for talent in various clubs around the world.
The Career Mode hub has been redesigned for easier navigation, fewer interruptions and live scouting reports, among other features. Managers are now able to develop, build and refine their network of scouts, and gather details on the attributes and traits of players.
Multiplayer Mode
Multiplayer allows players to face off against one another from around the world. This mode features various mode types:
Team Play - where everyone controls one person
Multiplayer Mode - which allows for a regular 1v1 online match
FIFA Ultimate Team - similar to NHL 14's HUT, FUT lets the player create their own team from scratch and compete against other players.
New Additions to FIFA 14
Precision Movement
Now, every step counts as players plant, pivot, cut, and shift momentum with the agility and explosiveness of real footballers.
Variable Dribble Touches
The First Touch Control of dribbling varies a player's touch when dribbling with pace. Usually, skilled players will have the chance to stand out with their touch and control, while less skilled players will experience fewer successful dribbles, which creates more opportunity for the defenders to win back possession, then attacking the other team.
Curling Lofted Through Balls
Now, in FIFA 14, players have the opportunity to curl the ball around the opponent to send precise passes or sent the ball into spaces.
Pure Shot

Pure Shot will let all FIFA fans feel what it's like to shoot the perfect shot with the brand new physic system called Real Ball Physics. This physic will ensure that every ball you kick will behave, and end up in the same place as it would in real life. The combination of Pure Shot and Real Ball Physics will let the fans have the most rewarding and varied shot selection in the FIFA franchise to date.
Protect the Ball

This mechanic will enable players to block off their ball from their opponents while running at any speed. Now, when a ball carrier is being pulled while advancing, they will be able to stop this by stepping in front of the opponent and using their body as a shield. This mechanic also gives the player a chance to fight for their position prior to receiving the ball. This mechanic lets the player to create more stunning scoring opportunities than ever before.
2nd Chance Tackles
The tackling zone has been extended in FIFA 14 to let the defender combine different types of tackles, recover from a failed tackle quickly, and have a second chance to compete for the ball, in any tackling situation.
Teammate Intelligence
With Teammate Intelligence, the player will have better decision-making automated teams. The automated teams will player smarter on both defense and attack to bring the beauty of soccer to life. This feature was brought to the NHL franchise last year.
Skill Games
This brings a competitive practice mode to FIFA 14. This lets the player learn or master the fundamentals skills necessary to compete in FIFA 14. This lets the player enhance his skills by playing mini games with a friend, or even himself.