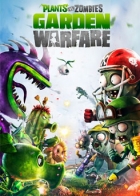 Plants vs. Zombies: Garden Warfare is a third-person, class-based shooter and cooperative game developed by PopCap Games and due to be published by Electronic Arts for Microsoft Windows, Xbox 360 and Xbox One in February 2014.
Garden Warfare sees the return of many of the iconic Plants and Zombies found throughout the series and incorporates them into a colourful and comic 3D, class-based shooter game that is modelled on the cooperative and competitive multiplayer modes found in famous shooter franchises like Call of Duty, Halo and Battlefield.
Plants vs. Zombies: Garden Warfare Brainwaves
8th June, 0 replies

A new Plants vs. Zombie will be revealed at Microsoft's E3 press conference. The conference starts at...

5th June, 0 replies

Job listings for developer PopCap appear to confirm that the next Plants vs Zombies game is a new Garden...
Share Plants vs. Zombies: Garden Warfare with others
Plants vs. Zombies: Garden Warfare