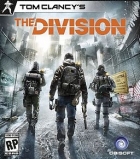 Tom Clancy's The Division is a multiplayer online third-shooter with role playing elements, developed by Massive (also known as Ubisoft Massive) and Ubisoft Reflections, and published by Ubisoft for Windows PC, the Xbox One and PlayStation 4 sometime in 2015.
The Division puts the player in control of a member of a group of combatants who find themselves in the middle of a post-apocalyptic USA, a deadly disease having caused society's collapse in a matter of days.
Tom Clancy's The Division Brainwaves
3rd June, 0 replies

Ubisoft has released the full details of its E3 2015 plans. The press conference will take place on June...

12th May, 0 replies

Tom Clancy's The Division has been delayed slightly. The game was originally slated to come out by the...

11th May, 0 replies

Tom Clancy's The Division, the upcoming shooter from Ubisoft, now has a fourth studio helping out with...
Share Tom Clancy's The Division with others
Tom Clancy's The Division